SATISFACTION POLICY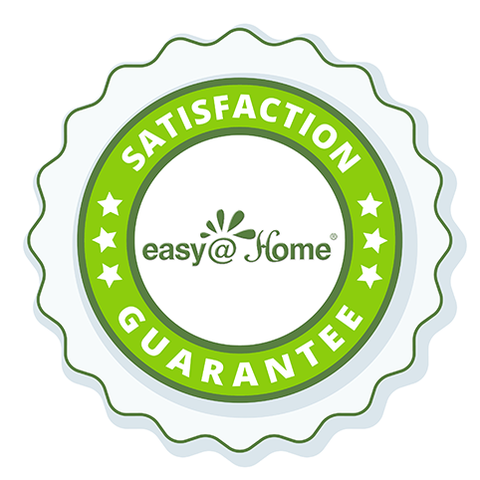 100% SATISFACTION GUARANTEE
Easy@Home is dedicated to being the best provider of home health tests and devices. Your satisfaction is our #1 priority. If you are not completely satisfied with one of our products, you can return it within 30-days of purchasing for a refund. We offer our customers immediate resolutions for any issue, no questions asked!
QUALITY WARRANTY POLICY
If you are not 100% satisfied with one of our products quality, refunds or returns are acceptable. We offer a 6-Month Product Quality Warranty for Testing Products and 1-Year Product Quality Warranty for Electronic Devices. You may return the products related to product performance or satisfaction for a refund or a replacement.

Please reach out to our Customer Service Team with your proof of purchase with the product(s) you wish to return/refund. 
We will reimburse the original purchase price to your original method of payment. (online purchases will automatically be refunded to the account used to pay)
In lieu of a physical return, please provide the following:
(Skip any segments you may have already submitted or not applicable to your case.)
1. Purchase channel

2. Order details
3. SN or Lot no. (electronic items only)
4. Best shipping address(for replacement)
Click here to print related information.

We hope to address your concerns soon and thank you again for the opportunity to resolve.
Conditions for Returns& Exchanges 
You'll get a full refund or a replacement if the following conditions are met:
If you have changed your mind, we may offer you a refund provided that the refund is made within 30 days of purchase. (The customer is responsible for contacting customer service to start a return directly and may be subject to return shipping fees.)
Issue related to product performance or satisfaction -- please contact our team for specific solutions before submitting a return/refunds. Our team members will assess the item to determine whether a refund will be offered in accordance with our Returns Policy. (The product is not subject to the exclusions listed below.)
Exclusion conditions
To protect all our customers and make sure that we handle every return with reasonable fairness, we cannot accept a return in certain situations, including:
Products damaged by misuse, abuse, improper care or negligence, or accidents;
Products returned for personal reasons unrelated to product performance or satisfaction after 30-day "Change of mind" Period

;

Products that have been expired, soiled or contaminated, until they have been properly cleaned

;

Certain products that are restricted from importation into the United States or require a license

;

On rare occasions, past habitual abuse of our Return Policy.
If you are unsure about the policies, please contact our customer service team to discuss your case for a resolution.